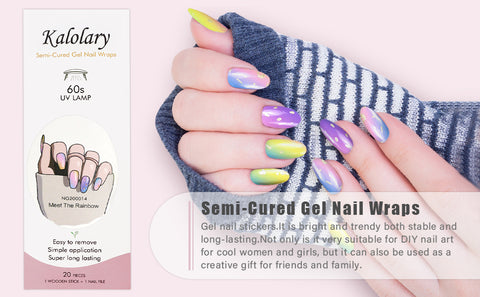 Features:
What are semi-cured gel nail wraps stickers?
1.They are stickers made of real liquid gel and cured (or finalized) by 60%.
2.They are made of flexible and wearable material in order to fit most nail shapes and sizes.
3.After placing them on your nails and curing the remaining 40% with a UV lamp, the gel will completely harden, and the effect will be like applying colorful nail polish in a nail salon.
4.Semi-cured gel nail strips can also be dried naturally under the sun for 1-2 hours without UV light.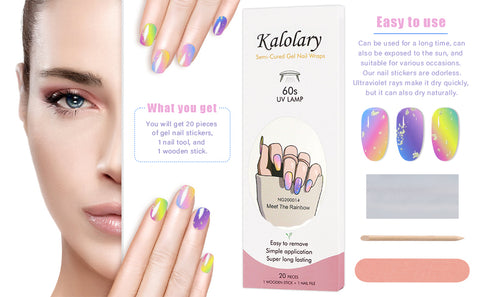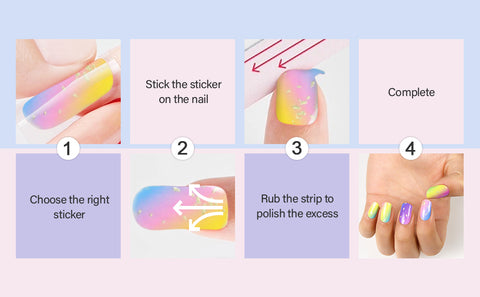 HOW TO USE:
1. Smooth your nails with the nail file and clean your nails with cotton pads.
2. Choose the right size that fits your nails, peel off the protective films of the Gel Nail.
3. Place on the fingernails gently.
4. Use a small wood stick to press and flatten the edges of the nails.
5. Remove the excess Gel Nail with a nail file.
6. Cure the gel nails under UV/LED light.
7. Smooth the edges with a nail file.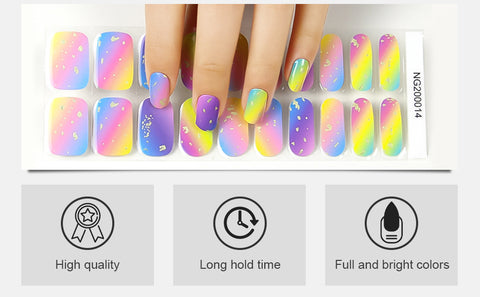 How To Remove:
1.Use the wood stick to lift gel nail wraps off your nails.
2.Clean your nails with cotton pads.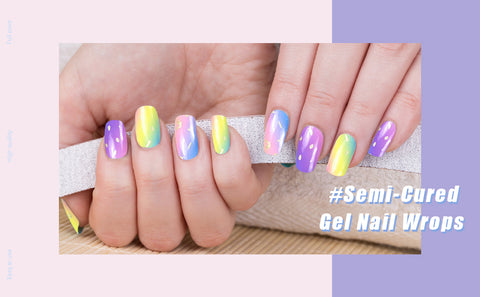 Package Includes:
1 x nail gel strips pack (20 strips)
1 x nail file
1 x wood stick
1 x silver sealing strip
ATTENTION:
1: Please use it immediately after opening it.
2: Please keep it in a film container after use, and use a sealing strip to avoid drying out.
3: Please keep it away from young children, and avoid eating by mistake.
4: Do not use it when your skin has a cut.
5: The colors may exist slight differences due to different screens.
STORAGE:
Please store in dark, cool and dry place to avoid hardening due to the light.